Testimonials From Our Clients
Our Fence Rental Customers have this to say...
Great service and great pricing. Bill and the crew are great!
- Brian Babcock
These guys are professional, on time, and great to work with! I would recommend them to everyone!
- Connie Minton
5 Stars! - Brian Starkey
5 Stars! - William Simonsen
---
---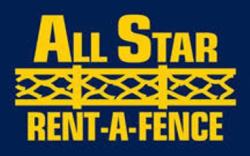 All Star Rental Fence
Rochester, WA
Bill Bingham, 360-704-8959
Home
Contact Us
Washington State License #ALLSTSR846J2





Copyright 2020
Website Design by Dragonwyck® Web Design L.L.C.



If you have questions or comments about this website,
please contact the Webmaster