Fence Rental Services
We offer the following services:
Temporary fence panels

6' x 12' size
4' x 12' size (event and/or crowd control)

Temporary driven post fence
Temporary swing gates or sliding gates (pedestrian traffic or truck entrance)
Service all of western Washington and western Oregon
Options:
Screening fabric
Barbed wire
Custom gates
Posts driven fence
All Star Rent A Fence understands fencing needs. If you have permanent fence requirements, portable toilets and/or other job site needs we would be able to refer you to a reputable company.
We are a member of the Associated General Contractor of Washington (AGC) and Blue Book Building and Construction Network, so check us out on those websites for further information.
Contact Us for More Info about Temporary Fence Rental Services
---
---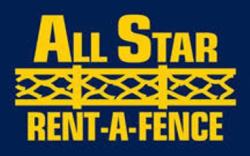 All Star Rental Fence
Rochester, WA
Bill Bingham, 360-704-8959
Home
Contact Us
Washington State License #ALLSTSR846J2





Copyright 2020
Website Design by Dragonwyck® Web Design L.L.C.



If you have questions or comments about this website,
please contact the Webmaster